Aurora keeps on pumping and dumping, up 55% in 24 hours
Ethereum-based altcoin Aurora, is showing yet another huge spike in price, which propelled it to its current level in less than 24 hours. The pumping and dumping continues.
It has been a strange couple of weeks for the Ethereum-based altcoin Aurora, and perhaps it is easier to see what we mean by that by taking a look at the below chart.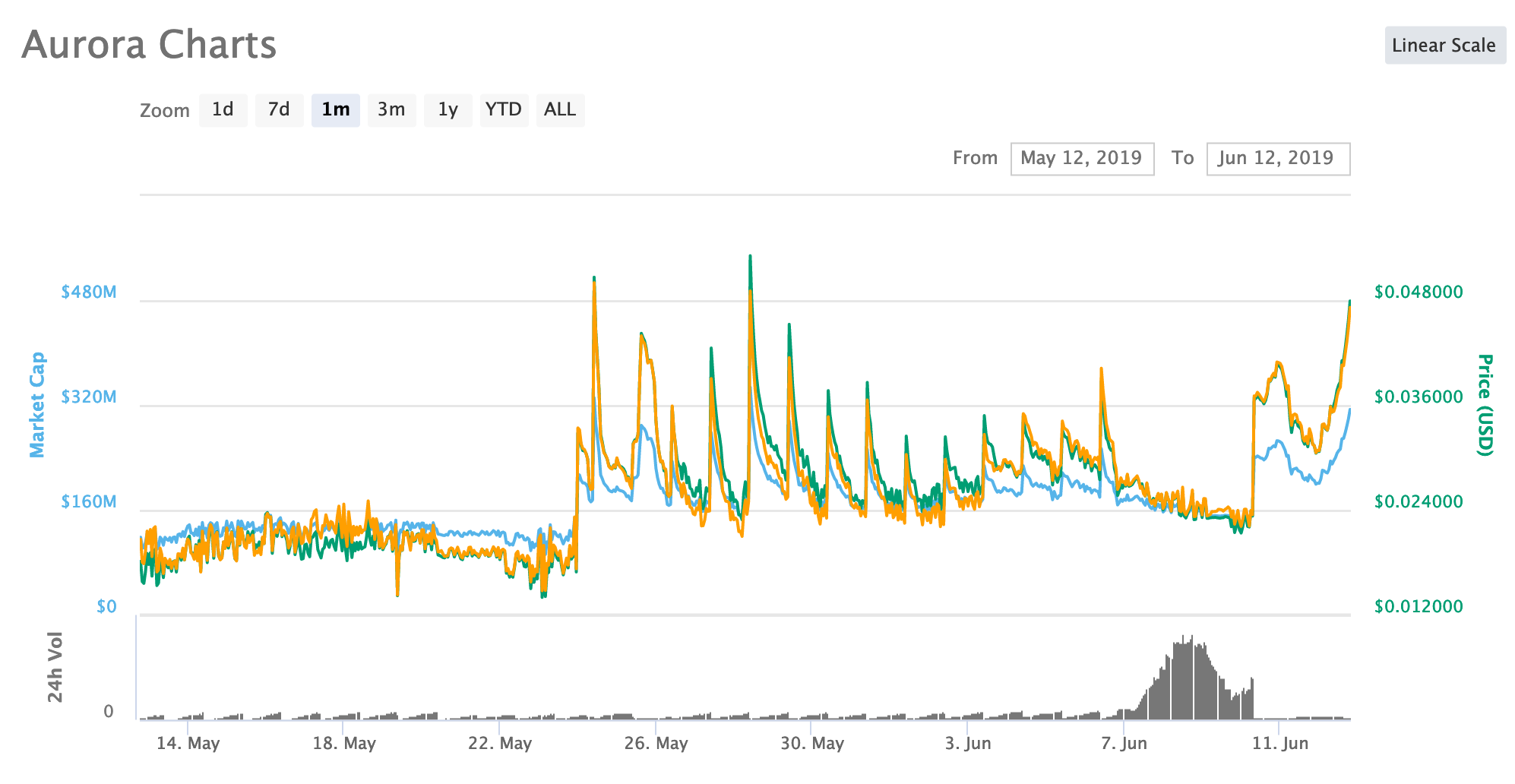 In the last 30 days, AOA has seen several unexplained price fluctuations, all showing insane percentages of between 40% and 130% on the day. One of the largest spikes on the chart shows AOA more than doubling, from $0.025 up to $0.057, which represents a 127% increase.
At first the spike came as a surprise, but as the month progressed, AOA has had so many of these insane price pumps and dumps, that today it is almost expected to occur.
On the day, AOA has just spiked again, showing 55% gains, while leapfrogging to the #31 spot in the Top 100 cryptocurrencies, and claiming the title of biggest gainer of the day.


It's unclear so far what caused these huge spikes, as there appear to be few positive fundamentals backing it up, but the short timeframes suggest it may have been the result of a single huge order.
Watch out for the dump! Something tells us it is coming.
If this is not a manipulated coin, I don't know what is
7 pumps and dumps in the past 7 days!!!
AND each pump is of OVER $100 MILLION!! #AURORA $AOA pic.twitter.com/s5o8DYi8bZ

— CryptoBull (@BullOfCrypto) May 31, 2019
Follow Chepicap now on Twitter, YouTube, Telegram and Facebook!

EXCLUSIVE - Thomas Lee: Bitcoin to FOMO rally 200 to 400%! Subscribe to the Chepicap YouTube Channel for more videos!