Bitcoin back over $8,000! Is BTC off to the races?
Crypto Twitter is celebrating today, reveling in the positive sentiment that pushed the world's number one cryptocurrency back over the $8,000 price mark.
As the cryptocurrency market turns green and the #1 surges back over the $8000 price point, once again defying naysayers, crypto Twitter is celebrating and reveling in positive sentiments.
Bitcoin is currently trading at around $8,050 and is showing a gain of almost $200 in the last 30 minutes.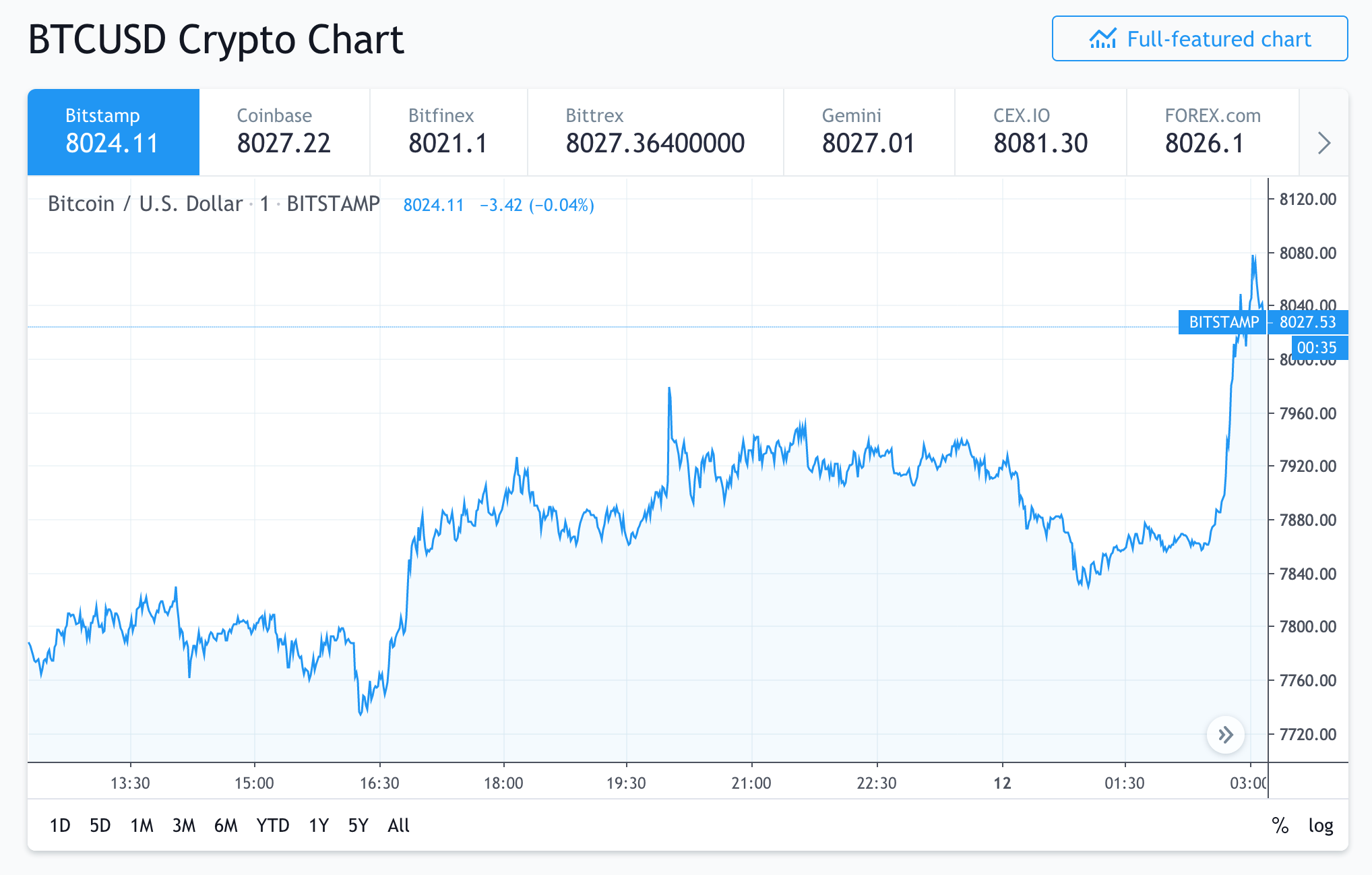 BTC/USD chart provided by Tradingview
Many crypto analysts and traders seem to hope that the third assault on the $8,000 price level will be the lucky one, and express hope and confidence that this rally will continue its upward price movement to new 2019 highs.
Apparently, the crypto trader Crypto Dog saw this sudden price jump coming and excitedly announced this to his 141K Twitter followers.
LET'S F*#$ING GOOOOOOOOOOOO$BTC $BTCUSD #Bitcoin pic.twitter.com/revZ3uWKWx

— The Crypto Dog📈 (@TheCryptoDog) June 12, 2019
Adding the following chart just 5 minutes later.
...5 minutes later pic.twitter.com/smJNzRr4At

— The Crypto Dog📈 (@TheCryptoDog) June 12, 2019
Bitcoin collector and crypto analyst Satoshi Flipper, makes it clear what he thinks is going on with BTC.
$BTC off to the races 🚀🚀

— Satoshi Flipper (@SatoshiFlipper) June 12, 2019
So it seems as if we're back on track aiming for the next level to break and with Bitcoin bursting towards $8,000 in less than 30 minutes, it's looking far more likely that $10,000 could be within reach ... again.
Follow Chepicap now on Twitter, YouTube, Telegram and Facebook!

BTC RETRACEMENT! This is what's next for Bitcoin! Subscribe to the Chepicap YouTube Channel for more videos!