McAfee and CZ respond to Indian crypto ban, was it "fake news?"
As Chepicap reported earlier, India may be exploring a possible ban that would make any form of cryptocurrency use illegal and punishable by up to 10 years in prison. Shortly after this news was released, John McAfee and CZ took to twitter to speak against this type of action, though McAfee later deleted the tweets. This could be because apparently the original article isn't well sourced and some are calling it "fake news."
CCN is reporting that McAfee took to twitter and posted two tweets that included phrasing like "The war has begun," and "If there was ever a time for Anonymous to step up to the plate, that time is now!"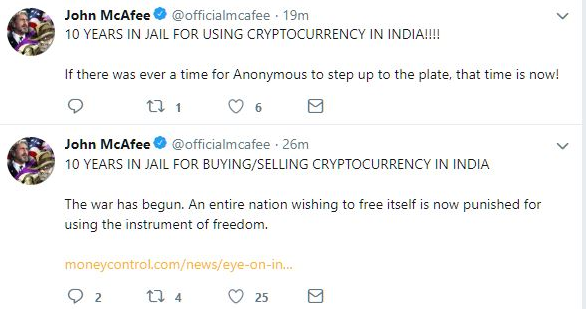 McAfee has since deleted these tweets. Binance CEO of Binance Changpeng Zhao, aka CZ, also spoke about the proposed ban, however some on twitter are calling out the news as fake:
That's not a bill yet. It's fake news Sir. The Govt is still framing guidelines for the same.

— हर्षित तिवारी Harshit Tiwari (@kallgorr) June 7, 2019
Indians Dont give up that easily plus news is bogus and based on half unclear info.

Gotta get those monthly paid article hits. #SakktLaunda

— CryptoIndia YT (@CryptooIndia) June 7, 2019
If the news is not well sourced, that may well be the very reason McAfee deleted his tweets. Hopefully the Indian government is not really considering such a proposal, but as always stick right here with Chepicap for all updates!
Follow Chepicap now on Twitter, YouTube, Telegram and Facebook!

BTC RETRACEMENT! This is what's next for Bitcoin! Subscribe to the Chepicap YouTube Channel for more videos!