Litecoin surges 15%, is $160 possible by the end of June?
The Litecoin price has surged more than 15% on the day, and with the Litecoin Halving well on its way, some analysts suggest that the price could go even higher.
Litecoin has been leading the pack, once again, with gains of more than 15% on the day, while Friday saw positive gains across the board for most major cryptocurrencies.
Litecoin is currently trading around its intraday high of $119, according to Coinmarketcap.com.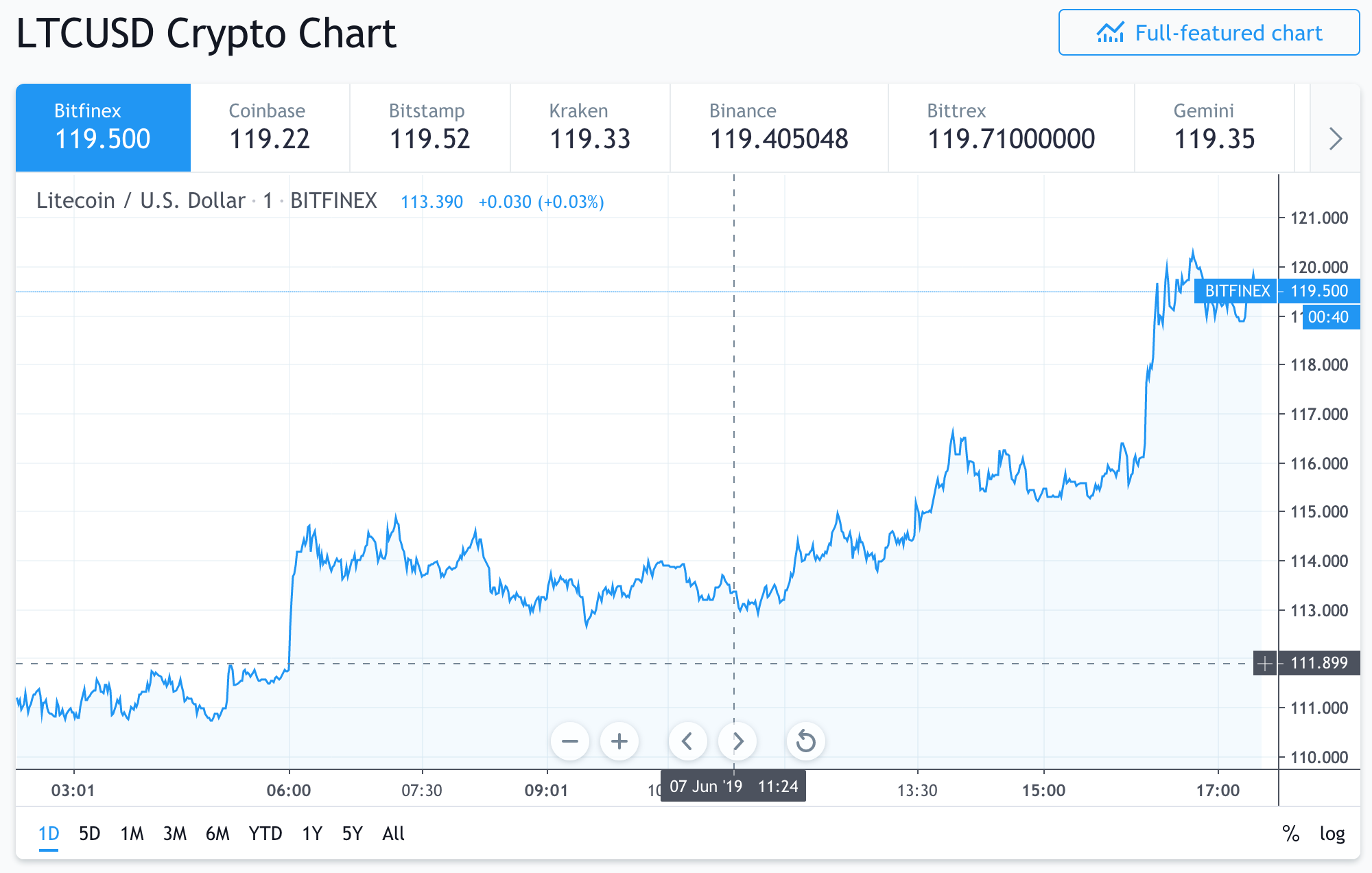 LTC/USD chart provided by Tradingview
While Litecoin's halving event is less than 2 months away, and set to take place on the 6th of August 2019, analyst are predicting that Litecoin's price has much more to go.
As we are already seeing the tell-tale signs that the upcoming halving could provide a catalyst for Litecoin, cryptocurrency trader and analyst, going by the Twitter handle, Crypto Rand, recently suggested that a $160 price for one Litecoin is about to materialize by the end of this month.
$LTC to $160 before the end of the month.

— Crypto Rand (@crypto_rand) June 7, 2019
Many of Crypto Rand's followers on Twitter are certainly on board with this price prediction for Litecoin.
LTC to 200 before halvening..

— CryptoMaster (@CryptoMMaster) June 7, 2019
June 7, 2019
June 7, 2019
Do you believe LTC will hit $160 before the end of this month? Let us know in the poll below.
Follow Chepicap now on Twitter, YouTube, Telegram and Facebook!

BTC RETRACEMENT! This is what's next for Bitcoin! Subscribe to the Chepicap YouTube Channel for more videos!