Bitcoin on its way to retest $8,200 as bulls deny bearish pullback
The world's most popular cryptocurrency continues to defy the recent bearish warnings, as it leaps once again above the psychologically-important $8,000 price mark.
After Bitcoin endured a brutal correction that smacked its price to a level as low as $7,432, more than 18% down from its 2019 peak of $9,096, BTC has entered once again the $8,000 region, and is continuing to show an impressive gain of 4.89% on the day.
BTC popped as high as $8,100 to a four-day high and boosted its market cap up to $143,5 billion.
The total market cap is currently sitting at $259,4 billion.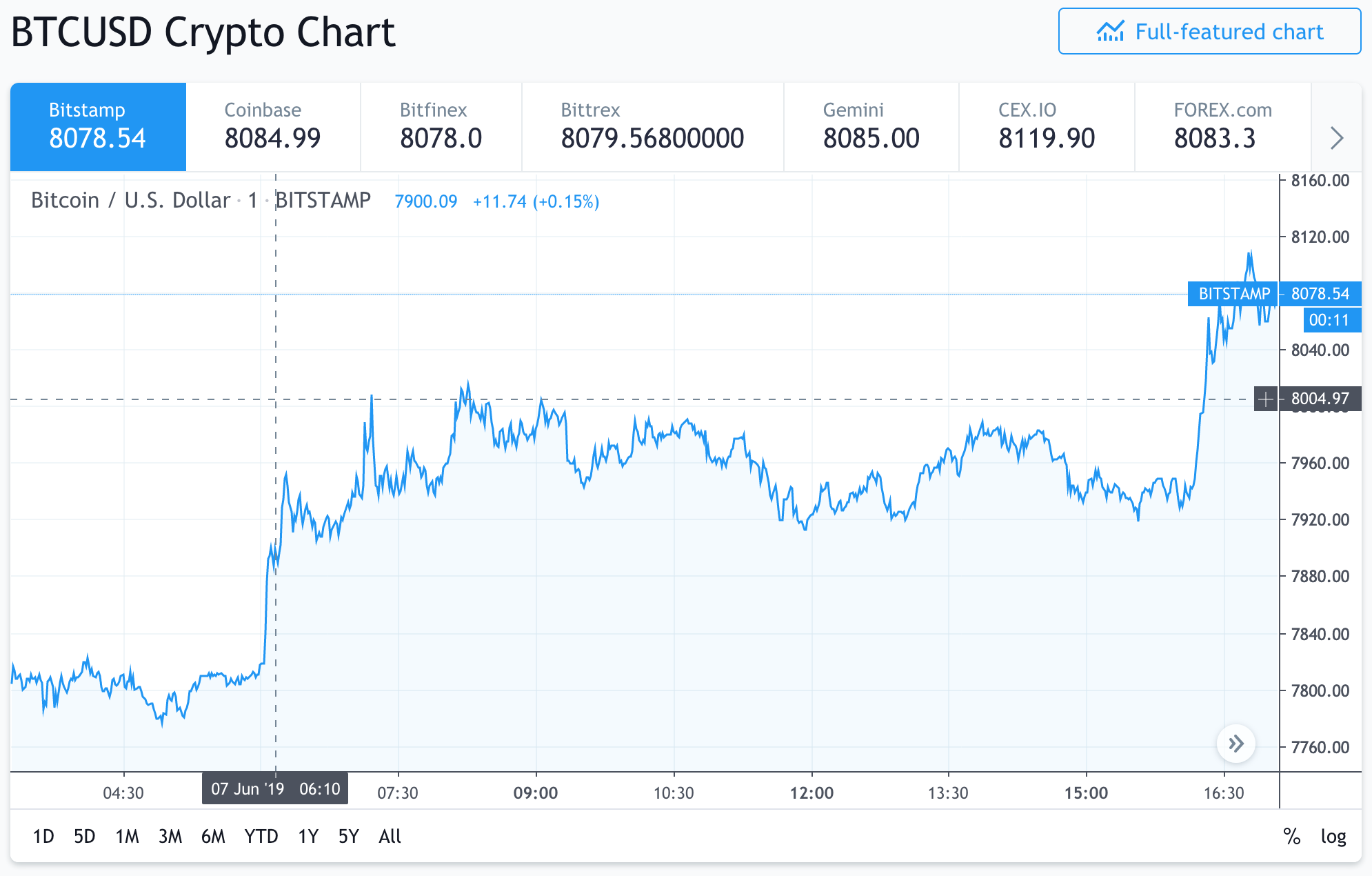 BTC/USD chart provided by Tradingview
As Bitcoin appears to be pushing bullish sentiment once again, many analysts appear to assume that BTC is ready to restest the $8,200 price mark.
Dips are made for buying 🚀

Looks like $BTC is heading to test $8,200 resistance

— Satoshi Flipper (@SatoshiFlipper) June 7, 2019
Trader Josh Rager, points out that the bullish resistance levels, flipped upside down to support levels.
'A break and close above $8200s would bullish for a further move up to high $8ks', he tweeted.
$BTC: Bullish Resistance Flips to Support

A close above current resistance will be a nice move for Bitcoin which could lead to a retest of the resistance in the $8200s

A break and close above $8200s would bullish for a further move up to high $8ks pic.twitter.com/Knvq5NFMKH

— Josh Rager 📈 (@Josh_Rager) June 7, 2019
#Bitcoin is back above $8,000 and now trading at an average price of $8,098 - up 5.15% over the last 24 hours.

Data via @coindesk pic.twitter.com/yU8H3u9jNy

— CoinDesk Markets (@CoinDeskMarkets) June 7, 2019
Follow Chepicap now on Twitter, YouTube, Telegram and Facebook!

BTC RETRACEMENT! This is what's next for Bitcoin! Subscribe to the Chepicap YouTube Channel for more videos!