Bitcoin-related tweets hit 8-month high in May 2019
As the general cryptocurrency market sentiment remains positive, the average Bitcoin-related tweet volume seems to have reached an eight-month high on May 28th.
Chepicap reported in April that according to one Twitter user the number of Bitcoin-related tweets, were at a low not seen in five years, and therefore made the assumption that interest in the number one crypto must be on the decline.
'The world (outside Crypto Twitter) isn't paying attention to Bitcoin', he tweeted.
Bitcoin-related tweets are at their lowest level in 5 years.

There were 16,710 Bitcoin tweets yesterday, but roughly 30k Bitcoin tweets per day in 2015.

The world (outside Crypto Twitter) isn't paying attention to Bitcoin. pic.twitter.com/2zeCYVjeBX

— Kevin Rooke (@kerooke) April 28, 2019
However, many Twitter enthusiasts came forward to point out that it is likely he is misinterpreting the data, and also that Twitter is hardly the preferred metric to meassure interest in BTC.
Now Forbes states that according to data provided by cryptocurrency analytics platform TheTIE.io, the 30-day average Bitcoin-related tweet volume climbed for 17 straight days, reaching an eight-month high on May 28th.
Joshua Frank, co-founder of TheTIE.io, said that 'at 17 days of consecutive growth, BTC is seeing its longest streak of increased 30-day average tweet volume since 2017'.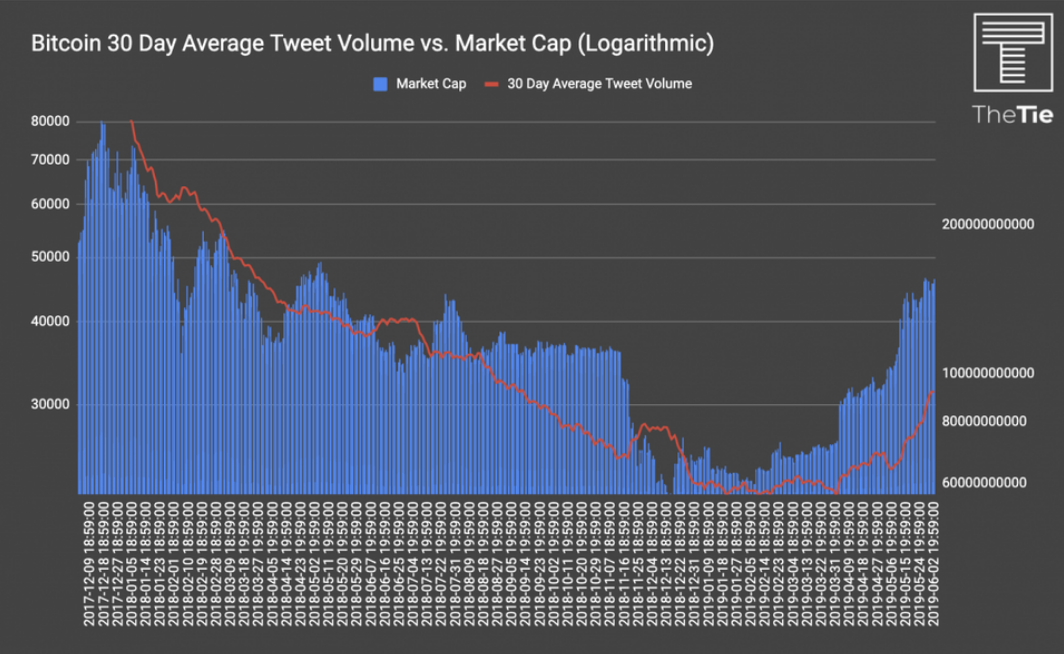 The co-founder of TheTIE.io said that tweet volume is very strongly correlated with the market cap for Bitcoin, and further added that they recorded two days with 40,000+ Bitcoin Tweets in May 2019.
'The last time that happened was in July 2018, 10 months ago', he said.
Bitcoin's 30-Day Average Tweet Volume Hit An Eight-Month High In May, As The Crypto Enjoyed Its Fourth Straight Month Of Gains @ForbesCrypto https://t.co/3vwDiwvtPv @TheTIEIO @mrtn_dvd @BlockforceCap #bitcoin #DigitalCurrency

— Charles L Bovaird II (@CharlesLBovaird) June 4, 2019
The question is now, if Bitcoin-related tweets are on the decline again, now that BTC has seen a significant drop to its current price of $7,700 from its 2019-high of around $9,100.
Do you think we should use Twitter as a fair metric of interest? Let us know in the poll below.
Follow Chepicap now on Twitter, YouTube, Telegram and Facebook!

BTC RETRACEMENT! This is what's next for Bitcoin! Subscribe to the Chepicap YouTube Channel for more videos!