From McDonalds to Binance CEO: What is 'CZ' cryptocurrency net worth?
If you are in any way part of the cryptoverse, you have without a doubt heard of the founder and CEO of Binance, Changpeng Zhao. Perhaps you know him better as 'CZ', the man who started out with flipping cheeseburgers at McDonald's and who is currently running the largest cryptocurrency exchange that no longer needs an introduction.
What you might not know, is CZ's bank account balance. Luckily for you, our fascination with how much someone is 'worth' is as strong as yours, so without further ado, let us take a closer look at CZ and the elusive numbers that make up his net worth.
Who is Changpeng Zhao?
CZ, who as a teenager in Vancouver, Canada, flipped burgers at a McDonald's and worked the night shifts at a gas station, is now part of the crypto elite, not only because of propelling Binance into becoming the largest cryptocurrency exchange in less than 180 days, but as well because the Chinese-born CEO, is not the kind of man to shy away from the spotlights.
After being introduced to Bitcoin by an unknown venture capitalist during a poker game, CZ, showed his undying dedication to cryptocurrency by selling his house in Shanghai in 2014, to fund his early career moves into the cryptoverse.
His crypto career really took off as the head of development at Blockchain.info, where he worked with crypto titan and well-known Bitcoin evangelist Roger Ver, and as the co-founder and CTO, at OKCoin, the San Francisco-based cryptocurrency exchange, where he was responsible for the technical team and the international market team.
It was not until 2017, when the ICO boom took the entire cryptocurrency markets for a wild rollercoaster ride, that CZ took his perfectly-timed 'leap of faith', by creating Binance, after raising around $15 million in an Initial Coin Offering, just when the crypto market was about to go parabolic.
In less than 8 months, CZ grew Binance into the world's largest cryptocurrency exchange and with the rapid success, came a huge amount of publicity, unforetold fame, a front cover of Forbes magazine, and no doubt a dramatic rise in CZ's bank account balance.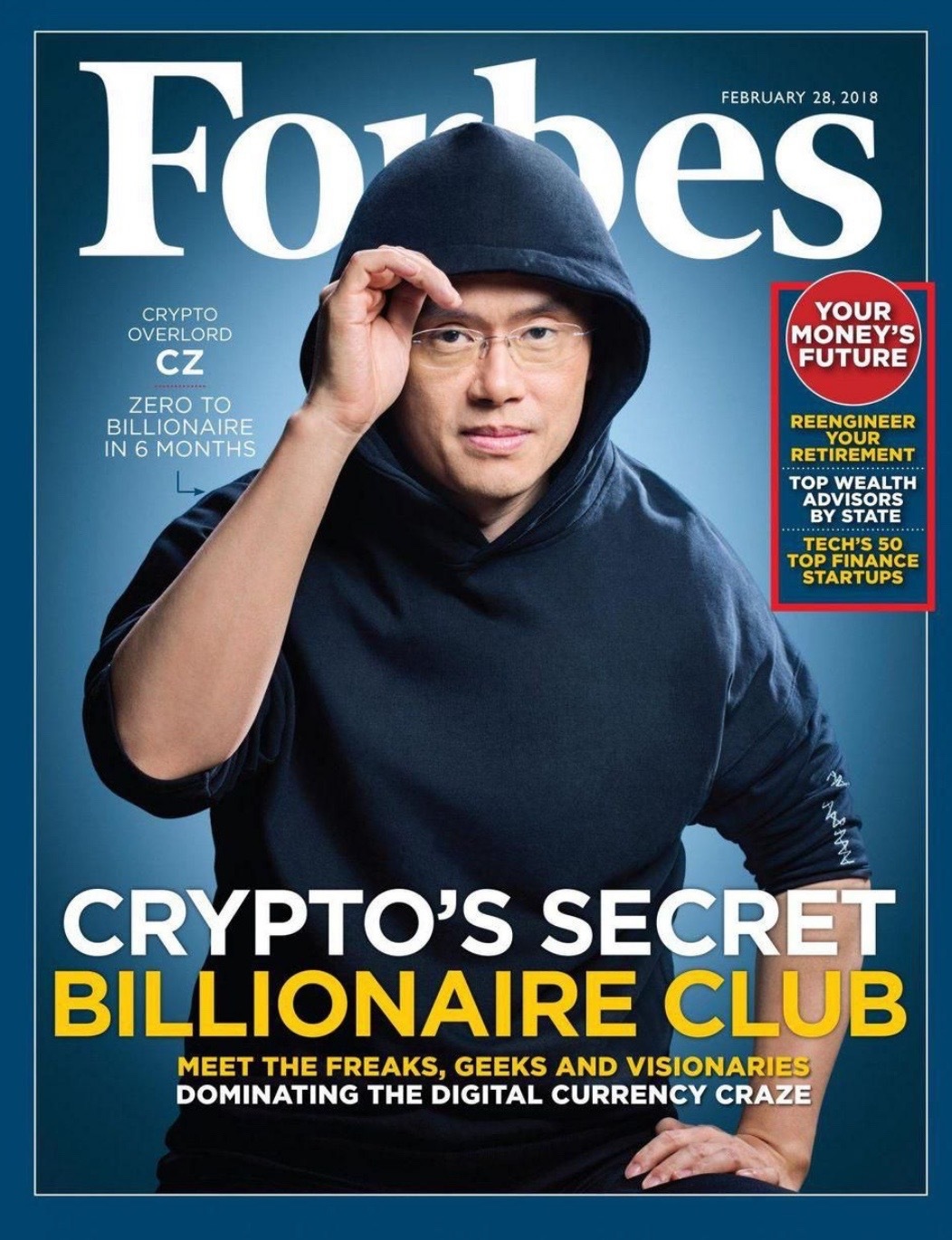 Just as CZ grew his Twitter following from 33,000 in February 2018, to more than 360,000 in just over a year, his net worth surged from around not much more than zero to over a billion in one year, propelling him into the prestigious list of the Forbes 'crypto secret billionaire club'.
The Binance CEO, who clearly isn't big on wearing suits, and apparently prefers to wear all-black hoodies, with the Binance logo, front and center, is estimated to have a net worth of a whopping $1.2 billion, according to Google and Forbes.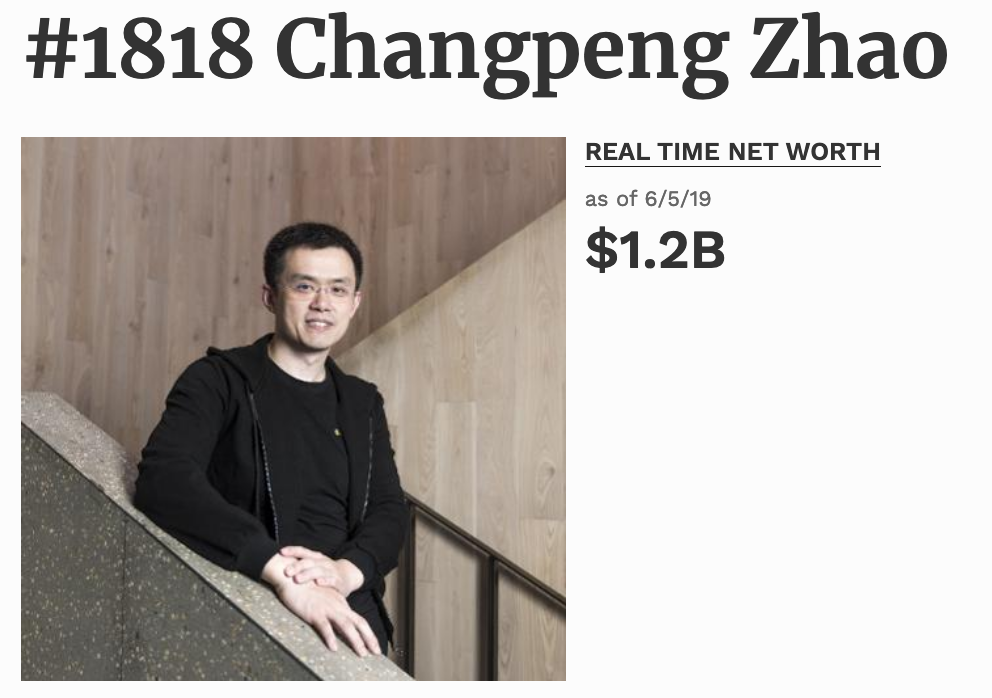 However, in December 2018, the crypto billionaire admitted to Bloomberg that 2018 had been a tough year for the entire crypto industry, and that his net worth as well took a significant beating, as he is 'all-in' on crypto.
Despite the pro-longed crypto winter, the Chinese-Canadian coder, remained very optimistic about the future of crypto, adding that he has been in this kind of situation before and believed that the down-markets would turn around soon.
"All my net worth is still in crypto, and you can look at the market, it's definitely down. But hey, it's just a year. The industry has survived situations like this before, and I'm confident the same will happen again," Changpeng Zhao said. https://t.co/9CcUMl1jgJ

— Bying (@Bying_official) December 20, 2018
In an interview with another crypto legend, Anthony 'Pomp' Pompliano, CZ was asked why he started Binance and why he is so dedicated to the crypto exchange and to crypto in general?
'Why are you doing what you do? What drives you? What is your personal motivation to do all of this?', the Pomp asked the Binance CEO.
Finally @cz_binance and I sat down to talk about how he built @binance, how he runs the company, what the detractors don't understand, and what CZ is looking forward to in the future for crypto.

Top 5 episode ever. Trust me :)https://t.co/FHAOQhGm82

— Pomp 🌪 (@APompliano) February 18, 2019
'I think it is my drive to have a more fulfilling life. You want to make the best out of your life. To have the most meaningful life is to do something meaningful.'
He added that sipping a Martini just ain't any fun. Driving sports car isn't either. 'I am just not interested in that kind of stuff', CZ said.
He goes on to say that as a species we are genetically wired to first take care of ourselves, and then you want to take care of others.
'I think that is the most rewarding thing to do as a species. The most rewarding thing for me to do, is finding ways to help others.'
'Honestly', he said. 'I have enough money, taking half away of it doesn't change much. Money doesn't drive me.'
'The best thing I know how to do, is to increase the adoption of crypto. That probably will be the most positive impact that I can bring.'
'Perhaps it sounds a bit arrogant but that's what I honestly think.'
We believe you CZ, we believe you!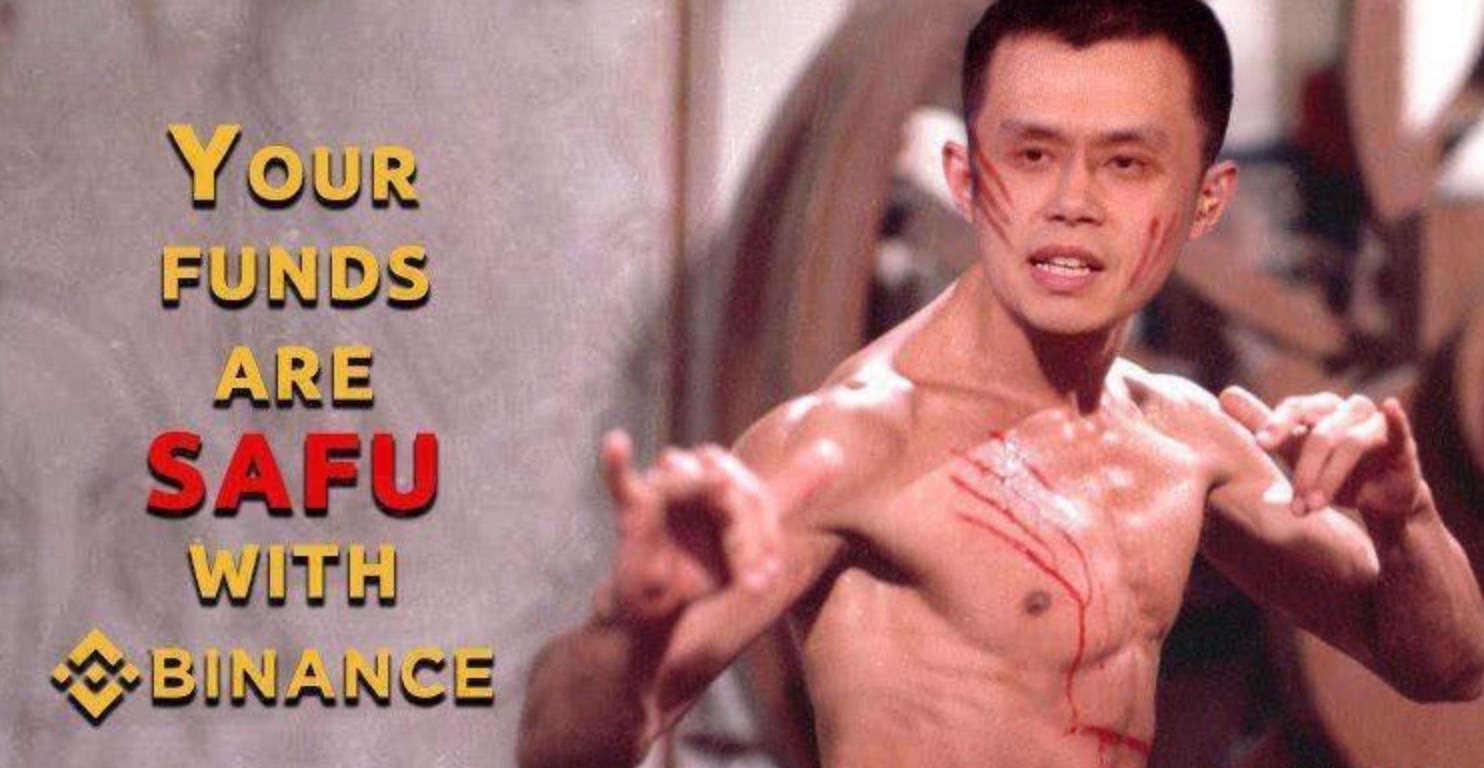 Follow Chepicap now on Twitter, YouTube, Telegram and Facebook!

Whale causes Bitcoin DUMP and makes $15 MILLION!? Subscribe to the Chepicap YouTube Channel for more videos!