Kik has raised over $4 million in crypto to fight SEC, price of Kin down
It is being reported by The Daily Hodl that Kik Interactive, who is being sued by the SEC over it's Kin token getting perceived as a security, has already raised over $4 million through its "Defend Crypto" campaign. However on the news of the lawsuit, it seems the price of the Kin token has taken a bit of a dip.
Yesterday news came out that the SEC was officially bringing a lawsuit against Kik over the fact that its Ethereum based token, Kin, qualifies as a security but was never registered. Kik had anticipated this move and had already launched the Defend Crypto campaign just days before this announcement.
Now, it looks like Kik is not far away from their $5 million goal, as it is being reported that they have already raised over $4.3 million through donations in various cryptos, including Bitcoin, Ethereum, Litecoin, and many other top currencies.
Unfortunately for the price of the Kin token, investors and traders did not take the SEC announcement very well, and the coin is down over 20% in the last 24 hours alone. On the weekly chart it isn't hard to spot the moment the news came out: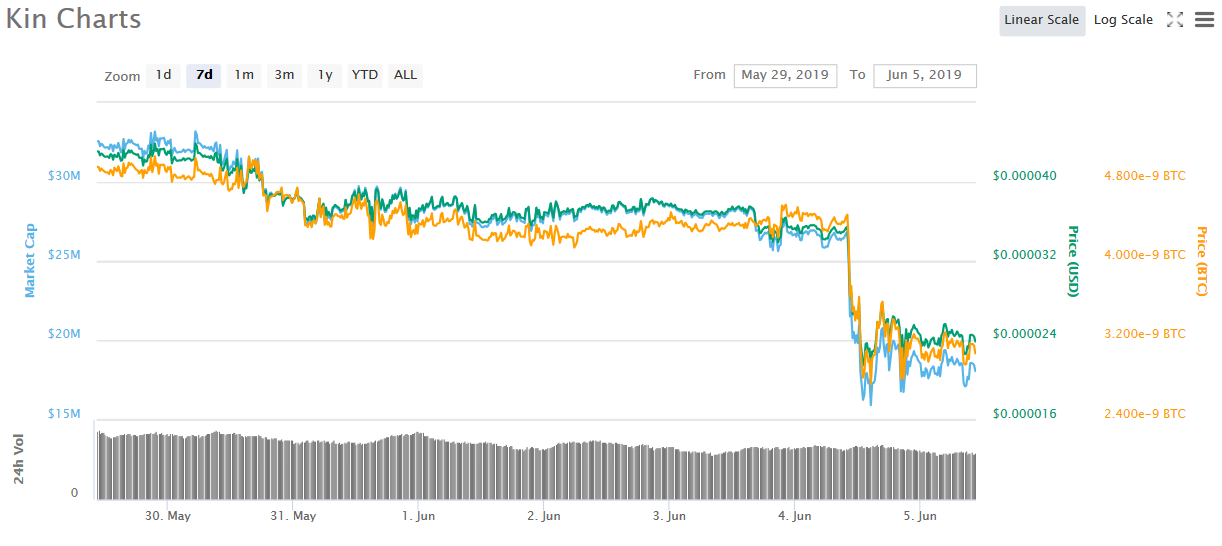 Kik has of course come out to defend itself against the claims that Kin is a security. It plans to fight the SEC in court, and thinks it has a solid legal ground to stand on. CEO Ted Livingston is quoted in the article:
"Kin is being used by more people in more apps every day, and come trial, Kin may be the most widely used cryptocurrency in the world. While the SEC's actions are a challenge to overcome, they won't affect the use, transferability and characterization of Kin, and we expect momentum in the Kin Ecosystem to only continue to grow."
Furthermore, Jake Chervinsky of Compound Finance had this to say, regarding the importance of these events:
"This is the most important storyline in the world of crypto securities law in 2019; far more significant than any SEC guidance or proposed legislation. The SEC keeps saying digital tokens are securities, but can they prove it in court? Respect to Kik for their aggressive stance."
One upside to this drama, as CCN recently reported, is that the SEC seems to have inadvertently confiirmed that it views Ethereum as legal currency. This supports previous assertations that it does not consider ETH to be a secuirty. The lawsuit is quoted:
"Investors' purchases of Kin were an investment of money, in a common enterprise, with an expectation of profits for both Kik and the offerees, derived primarily from the future efforts of Kik and others to build the Kin Ecosystem and drive demand for Kin. Consequently, Kik's offer and sale of Kin in 2017 was an offer and sale of securities."
This, and other text in the lawsuit, refers to Ethereum as "money," and is part of the basis for the case. While not groundbreaking altogether, it is maybe the most clear the regulatory body has been on the digital asset thus far.
Will Kik be able to defend that its token shhould not be considered a security? Will the SEC finally provide clarity on crypto? Stick with Chepicap for more updates!
Follow Chepicap now on Twitter, YouTube, Telegram and Facebook!

Whale causes Bitcoin DUMP and makes $15 MILLION!? Subscribe to the Chepicap YouTube Channel for more videos!