Bloomberg's BTC indicator flashes sell signal: 'Market in identity crisis'
It seems that the pain is not over for Bitcoin yet, with Bloomberg's BTC indicator flashing a sell signal for the first time since April.
This means that BTC probably has more downside to come before it can retrace and try to break $9000 once again. Bloomberg uses the GTI Vera Convergence-Divergence indicator, which hasn't been bearish since April. Since the bottom was reached in December 2018 the indicator only went bearish two times: in April when Bitcoin dropped from $5500 to the $5000 levels, and now, with Bitcoin dropping to the $7000s.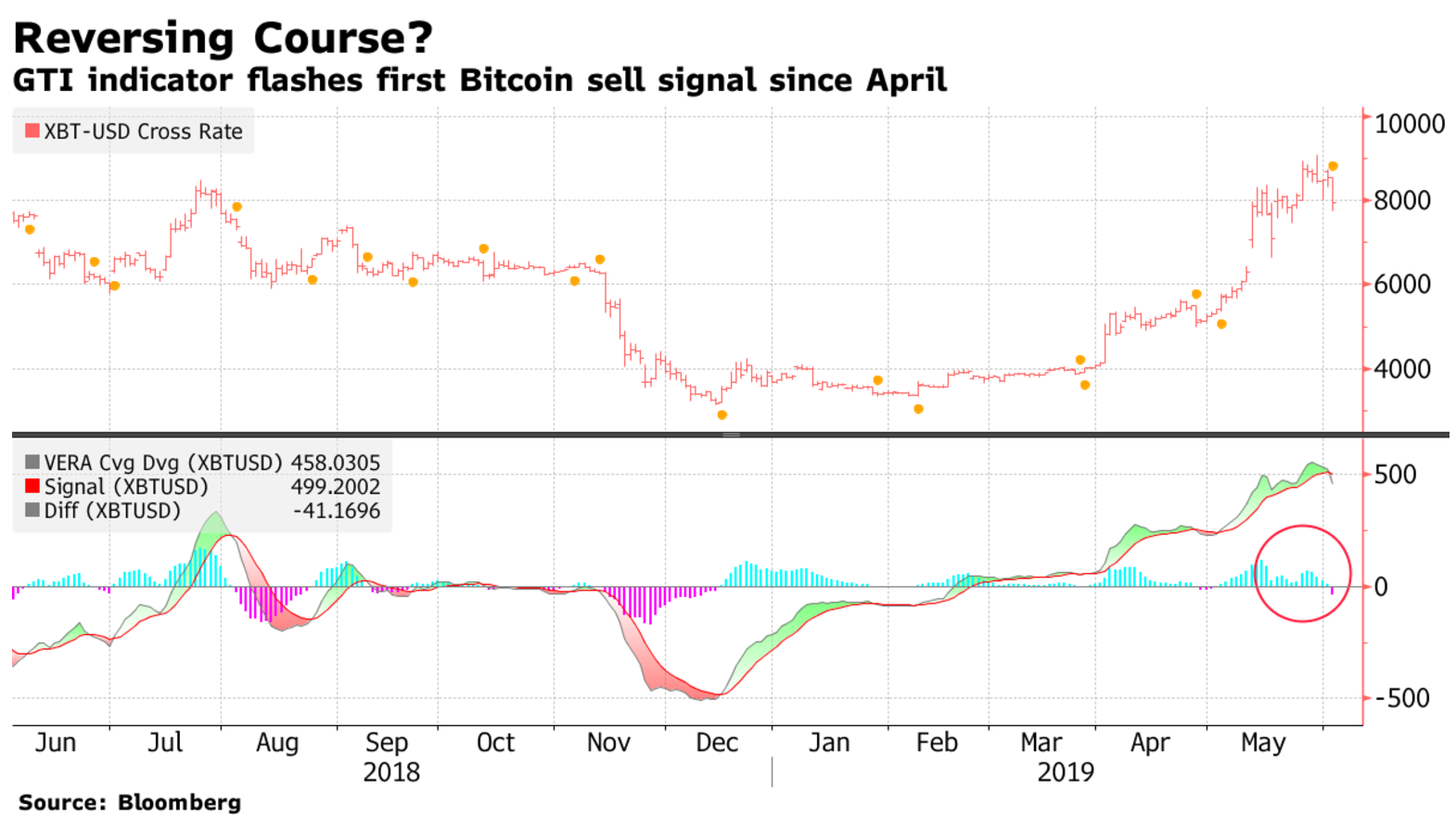 Image credit:Bloomberg

In an interview with Bloomberg, senior trader at Cipher Technologies Jake Stolarski said that 'the market is in an identity crisis, trying to find a place to stabilize'. Stolarski: "The key technical levels have been creating market volatility, for sure, due to sudden shifts in sentiment."
Last week, Bitcoin shortly broke $9000, but only days after BTC is trader around the $7800 level, a drop of more than $1000. Stolarski expects traders to accumulate now before Bitcoin will try to breach $9K again. "People are seeing where the resistance is, where the stops are both up and down. People are trying to find a stabilizing point where they can layer into a core position."
After reaching $7450, Bitcoin has slowly climbed up to $7850 the last few hours. Traders however are not confident that this is the end of the downturn. Some are even looking at the $5600 level, before we can think of higher prices again.


BTC/USD Chart provided by Tradingview

Follow Chepicap now on Twitter, YouTube, Telegram and Facebook!

Whale causes Bitcoin DUMP and makes $15 MILLION!? Subscribe to the Chepicap YouTube Channel for more videos!