Bitcoin back approaching $8K after dipping to $7.5K couple of hours ago
Bitcoin is back approaching $8,000 after dipping to $7,500 just a couple of hours ago.
Bitcoin is back to the upper region of $7,000 just hours after it dipped to $7,500. Total market cap is $249,600,557,531, which is $5 billion bigger than 8 hours ago.
Top 10
Despite the fact that Bitcoin still sees a minor loss with -1.5%, the value bounces back approaching $8,000 at $7,800.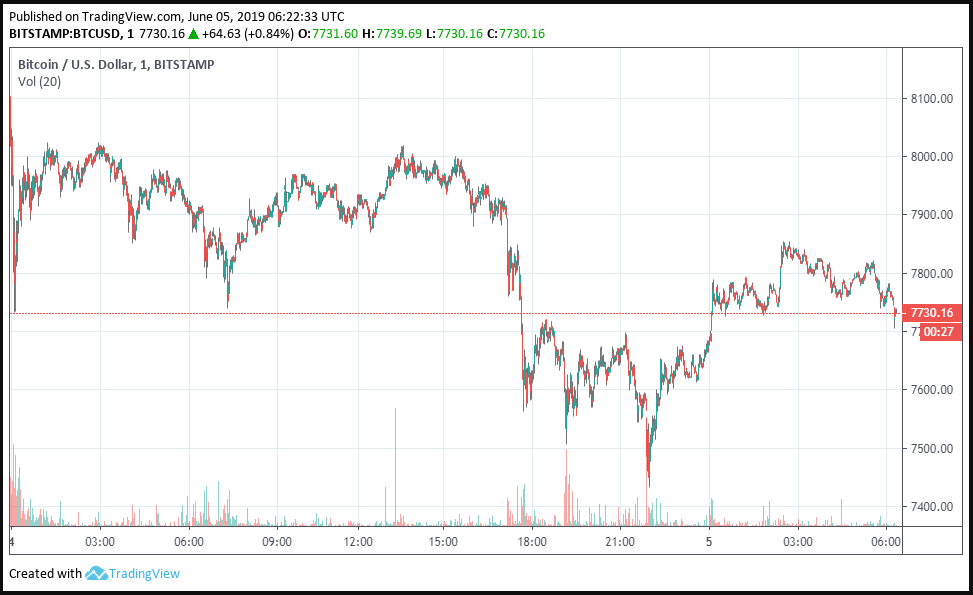 BTCUSD Chart provided by TradingView
Almost all coins in the top 10 are in red, except Bitcoin SV (BSV) and Tether (USDT) that see 4.7% and 1.3% gain at $227 and $1 respectively.
The biggest loser in the group is EOS with -5.2% at $6.3, followed by XRP with -2.4% at $0.4 and Binance Coin (BNB) with -2.1% at $29.7.
Top 100
Red color is dominating the top 100 crypto list, with the biggest loss seen by Crypto.com Chain (CRO) with -13.1% at $0.06, followed by Ravencoin (RVN) with -9% at $0.06 and Ethereum Classic (ETC) with -8.2% at $8.1.
The biggest gainer in the top 100 is HedgeTrade (HEDG) with 45.8% at $0.26, followed by Bytom (BTM) with 16.4% gain at $0.13 and GXChain with 14% gain at $1.2.
*All prices are correct as of writing time
Follow Chepicap now on Twitter, YouTube, Telegram and Facebook!

Whale causes Bitcoin DUMP and makes $15 MILLION!? Subscribe to the Chepicap YouTube Channel for more videos!