While the stock market had it's worst May in 7 years, Bitcoin had its best
It's been fairly hard to ignore Bitcoin recently, everyone from mainstream media to legacy investors cannot help but take notice of Bitcoins parabolic run, couple this with the fact that the stock market has had its worst May in 7 years and you have yourself a fairly bullish cocktail … you can almost hear warren buffet foaming at the mouth.
Thanks to the continued US-China trade war global stocks are down across the board. Several of Wall Street's major indexes have cited major losses recently, with the Dow Jones industrial average currently citing a monthly decline of 1864 points (almost -7%) since the 1st of May.
DJI index chart provided by Tradingview
In comparison, Bitcoin has a tremendous month (make that a "tremendous few months") citing a 61% rise from $5269 back at the start of May to today's price of $8525 (and that's after the recent dip)
This hasn't gone unnoticed by Mati Greenspan senior analyst for eToro, who noted that the stock markets had just come off the "worst month of May in seven years." In Greenspan's estimation, this is why it "pays to diversify."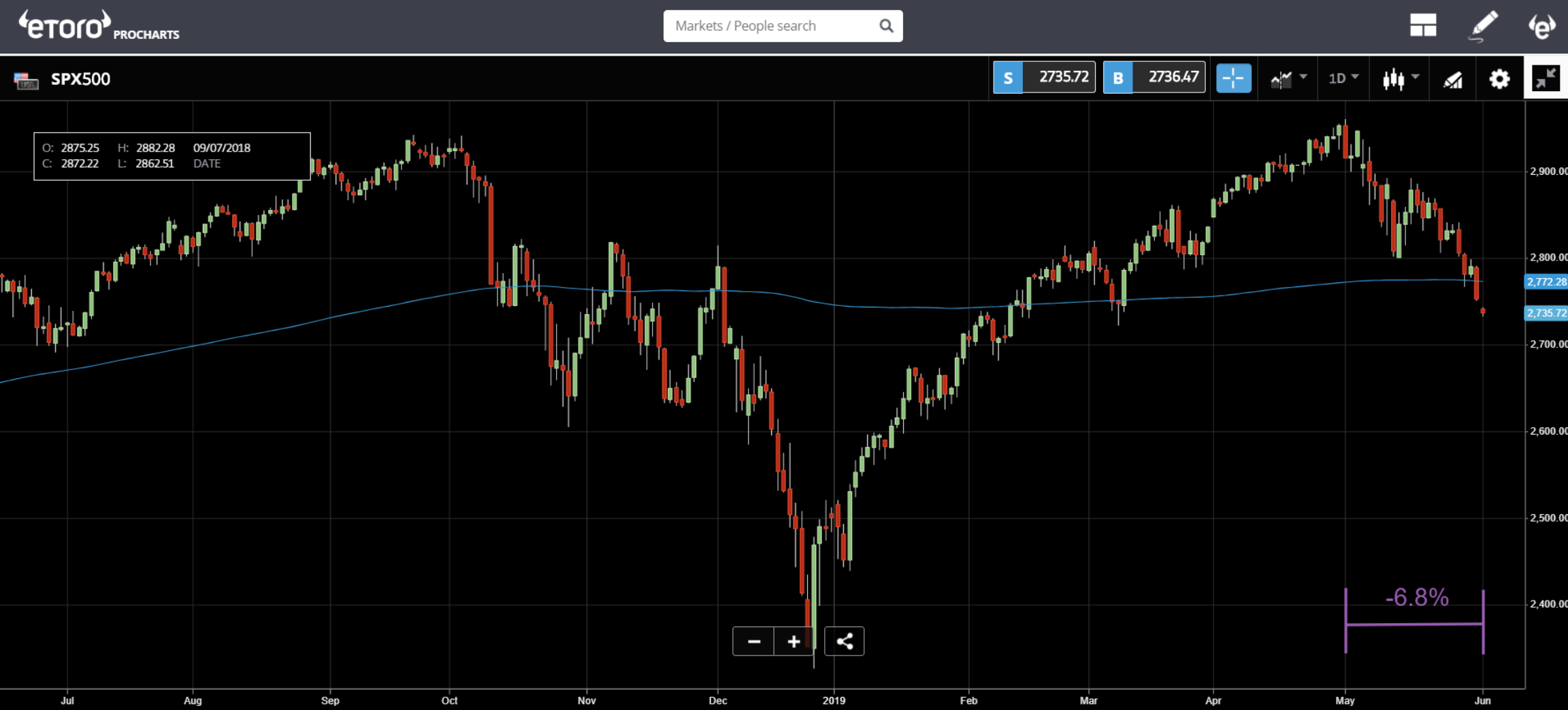 "Global investors right now have their eyes firmly on the bonds market," says Greenspan in his newsletter, "Recently an inversion of the yield curve has put many on edge as the difference between the US 3 month treasuries and the 10 year treasuries has gone negative for the first time since 2007."
Greenspan notes that this negative correlation could be a "very strong indication that a recession could be coming"
So, the stock market is screwed. What about crypto?
Greenspan relays the many bullish gains garnered this year, adding that Bitcoin along with most altcoins have outperformed every other asset class.
"Just like the stock market has had it's worst May in 7 years, bitcoin has had its best May ever."
However, the analyst believes that momentum is slowing down:
"Volumes across the industry are still elevated but seem to have dissipated over the last week or two. Transactions on the bitcoin blockchain are telling a similar story," he said.
Greenspan adds that despite this relative lack of volume, the crypto market still has the potential to "snowball into an upward breakout", caveating only to provide the possibility of a correction:
"be prepared for the possibility of a pullback after such a strong surge as we saw in May."
Interestingly, Greenspan isn't the only one noticing the correlation between falling stocks and rising cryptocurrencies.
As reported, according to professor of economics, Panos Mourdoukoutas, Bitcoin is "turning into the new gold," following the US-China Trade war as investors worried about the unease "seek shelter" within cryptocurrencies.
What do you think about this inverse correlation between stocks and cryptocurrencies? Is Bitcoin in for a fall soon, or will the rally continue? Let us know your thoughts in the comments below!
Follow Chepicap now on Twitter, YouTube, Telegram and Facebook!

Chepicap is now LIVE in Blockfolio! This is how you receive our latest news in your portfolio tracker!