Bitcoin (BTC) mining difficulty hits all-time high
Mining difficulty on the Bitcoin (BTC) network has reached an all-time high level in the last 24 hours. Surging past its previous peak back in October 2018, this could be a positive sign for future price developments.
An increase of 11.26% saw the Bitcoin mining difficulty rise to 7.46T. A difficulty of 7.45T was measured on October 4, 2018. The BTC.com data analysis page suggests that the next difficulty, measured in 13 days and 16 hours, will see an increase of 9.7% to reach a level as high as 8.18T.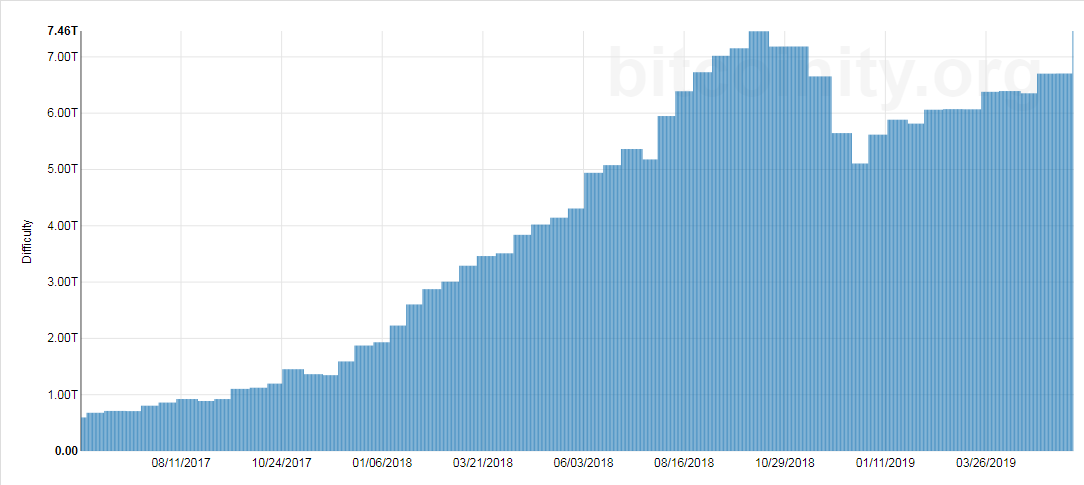 Chart from Bitcoinity
The hash rate on the network should also be reaching its all-time high sometime soon, after a big increase in mining power over the last week or so. In general, these increases suggest that the BTC network is as secure as it has ever been. The increase in mining difficulty and hash rate is coinciding with one of BTC's biggest price rallies for over a year, but it's still unclear what the correlation is or will be.
Many have suggested that the price follows the hash rate, as the large-scale BTC mining operations' economic calculations are often trusted as valuable indicators. A more secure network is also inherently more valuable. This is likely to become a more influential factor on BTC price as established financial institutions, many of which may have concerns about the security of digital assets, get involved in the market.
Follow Chepicap now on Twitter, YouTube, Telegram and Facebook!

Chepicap is now LIVE in Blockfolio! This is how you receive our latest news in your portfolio tracker!