Market sees red candlesticks, BTC trades below $8,600
The world's number one cryptocurrency has been experiencing a few interesting price actions in the last few hours, and is now trading below the $8,600 price mark.
Bitcoin has made a new yearly high today, however brief it turned out to be.
Within a time frame of one hour, Bitcoin shot up past the important $9000 level, only to be rejected hard, reversing to current levels of around $8,554.
The surge past $9000 was accompanied by a huge spike in trading volume, to a level similar to that which was seen earlier in the week.
The last time BTC was trading at $9000 was at the start of May 2018.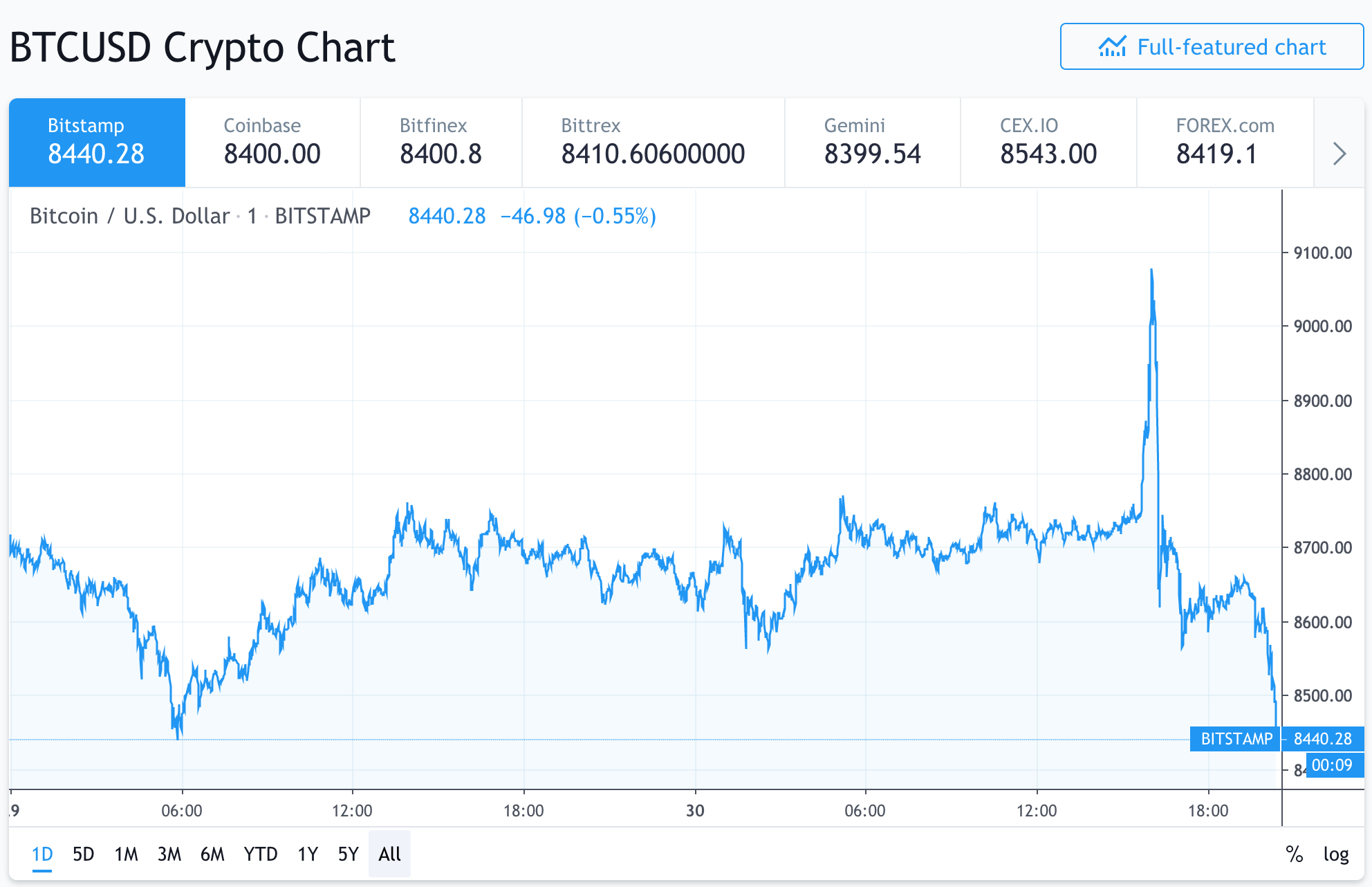 BTC/USD Chart provided by Tradingview
The total market cap of all cryptocurrencies currently is sitting at $270.5 billion, which is almost $5 billion less than when the day started.
All the major cryptos in the top 10 are feeling the effect of Bitcoin's sudden surge and immediate pullback. The biggest gainer in the group is still Bitcoin SV (BSV) with more than 8% gains on the day.
All the other top 10 cryptos are bleeding, with Litecoin recording the biggest loss of more than 5%.
The biggest gainer in the top 100, is Cosmos defying the downwards trend, with an impressive 22.99% gain, and currently trading at $5.80 per coin, followed by Bitcoin Diamond with a 16.9% gain at $1.38.

The two biggest losers of the day are Metaverse ETP, and ChainLink, with 13.68%, and -11.99%, respectively.
Moving today:
🚀 Cosmos $ATOM: 27.39%
↗️ Bytecoin $BCN: 24.02%
↗️ Bitcoin Diamond $BCD: 20.87%
↘️ SOLVE $SOLVE: -8.67%
↘️ IOTA $MIOTA: -9.15%
↘️ Aurora $AOA: -10.37%

— CoinAlerts.io (@GetCoinAlerts) May 30, 2019
Litecoin halving & Bitcoin halving: $LTC to smash ATH! Subscribe to the Chepicap YouTube Channel for more videos!


Follow Chepicap now on Twitter, YouTube, Telegram and Facebook!

Chepicap is now LIVE in Blockfolio! This is how you receive our latest news in your portfolio tracker!