SEC files lawsuit against $26M crypto pyramid scam, ProCurrency operator
The operator of crypto pyramid scam company, IPro Solutions and IPro Network is sued by the Securities and Exchanges Commission (SEC).
California resident, Daniel Pecheco is facing a lawsuit by the SEC for operating a multimillion-dollar crypto pyramid scheme.
Pecheco is the man behind IPro Solutions LLC and IPro Network LLC that offered securities, which the SEC claims as unregistered and successfully raised as much as $26.5 million.
In more details, the funds came from the successful sale of IPro Packages that contained e-commerce lessons on how to make profits through online business along with a recruitment-based compensation plan and the ability to convert points to their native currency, ProCurrency.
The members could get points from package purchases or recruiting others to join IPro, which are redeemable to ProCurrency.
Moreover, Pacheco informed their investors that one of the future plans is to create an ecosystem that will provide a value for the ProCurrency in the long term by using it for e-commerce transactions.
Only within 14 months, he successfully recruited 20,000 members and gained the aforementioned amount of money, which then used to purchase a luxury home for $2.5 million in Redlands, California and a Rolls Royce for $150,000.
He also transferred the money to several other family-owned companies, which are not related with IPro, such as E Profit Systems LLC and his daughter's Accept Success Corporation, as reported by CCN.
Long story short, IPro collapsed as it wasn't able to pay the promised commissions and bonuses to their members. From the promised 58-65% of the company's income, they only managed to allocate less than 30% to pay their members, which resulted in the company's ceasing operation in March 2018.
"Pacheco engaged in a fraudulent pyramid scheme by soliciting IPro members through false and misleading means, including websites, promotional conferences, and in-person meetings, in which he touted the profit-making aspects of IPro's iPN Compensation Plan, while at the same time diverting IPro funds for his own benefit," SEC's complaint filing reads.
As of writing time, ProCurrency (PROC)'s ROI has declined by -98.52% and its value has plunged to $0.0015 from $0.1 in January 2018.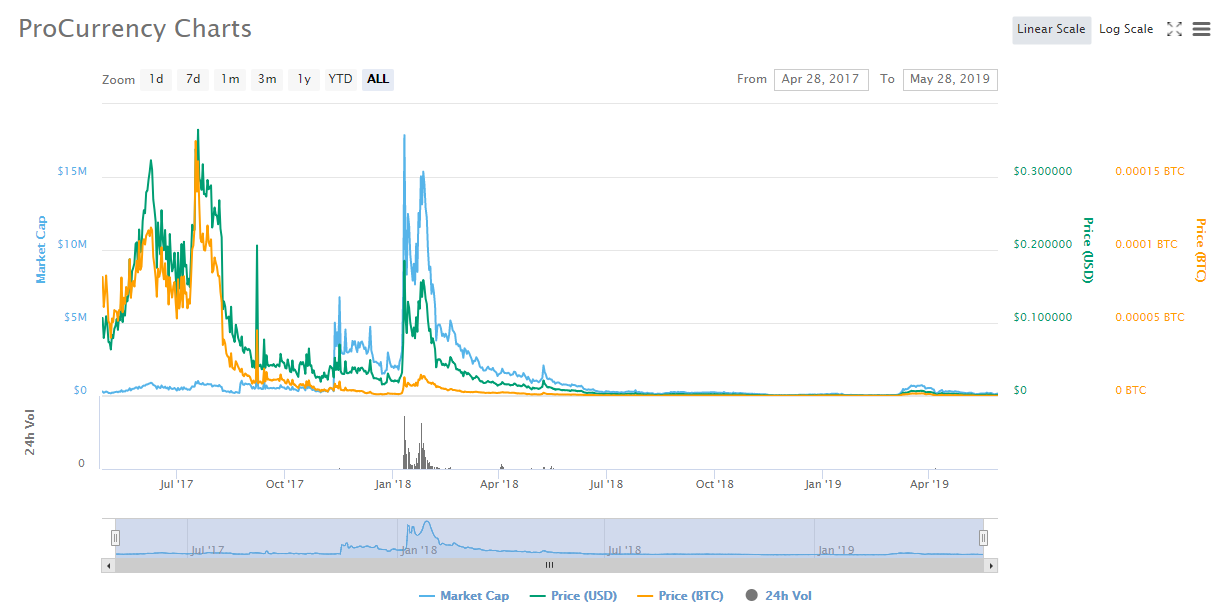 Stick with Chepicap for more updates from the crypto space.
Follow Chepicap now on Twitter, YouTube, Telegram and Facebook!

Chepicap is now LIVE in Blockfolio! This is how you receive our latest news in your portfolio tracker!